Back
Apartment Living in 2022: 6 Things Today's Renters Want
Article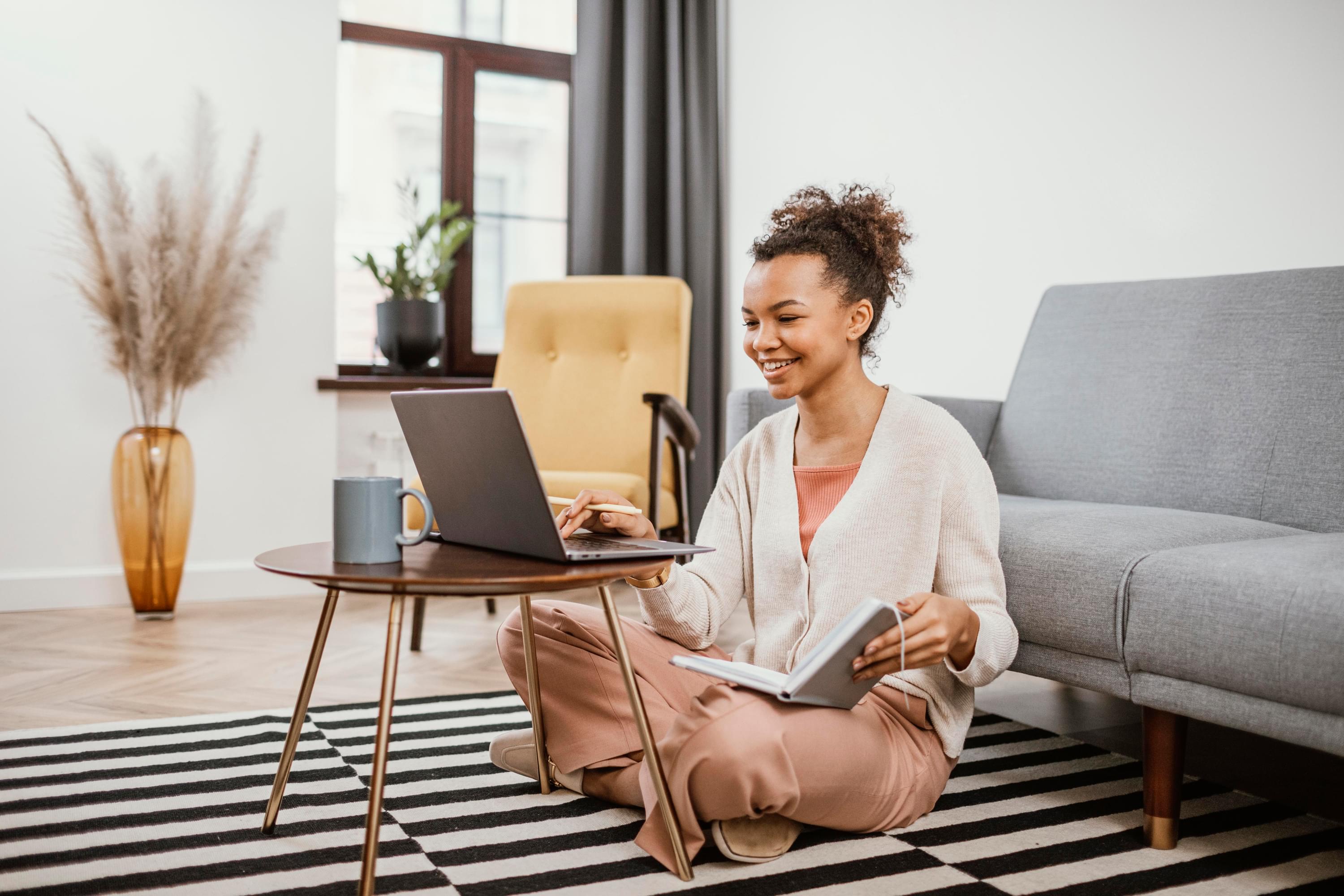 More people are renting in 2022 than ever before. More Americans (32.6%) rent today than at any point in the last 70 years. That's approximately 44.1 million households. A third of those say that they're renting by choice, not because of circumstance. And of all those renters, almost 40% of them live in multifamily housing units.
Also, Millennial and Gen Z comprise 1 in 3 Americans in 2022. What does this have to do with multifamily? Sixty percent of them choose to rent, they're the most willing to move into an apartment building, and 78% of them say they do not plan on buying a home soon. All of this represents a tremendous opportunity for multifamily owners.
There's also been an evolution of what residents prioritize. In order to continually improve the resident experience and stay competitive, owners and developers need to know what these trends are. After considering data collected by Dwelo, our partners, and statistics from industry experts, we've identified six specific preferences of today's renters that owners need to be aware of.
A Multi–Channel Journey
Resident Reviews
Touring Options
Smart Apartment Solutions
Energy Management
Mobile Apps
As we explore these preferences, we won't address most of the features that have been important to renters for decades; things like affordability, security, proximity to public amenities, convenient parking, good building maintenance, etc. Though these certainly are all important to renters today, here we discuss expectations unique to renters in 2022.
1. A Multi-Channel Journey
Data shows the current generation of renters uses many channels during their search. Below is a look at Gen-Z's rental search behavior across channels.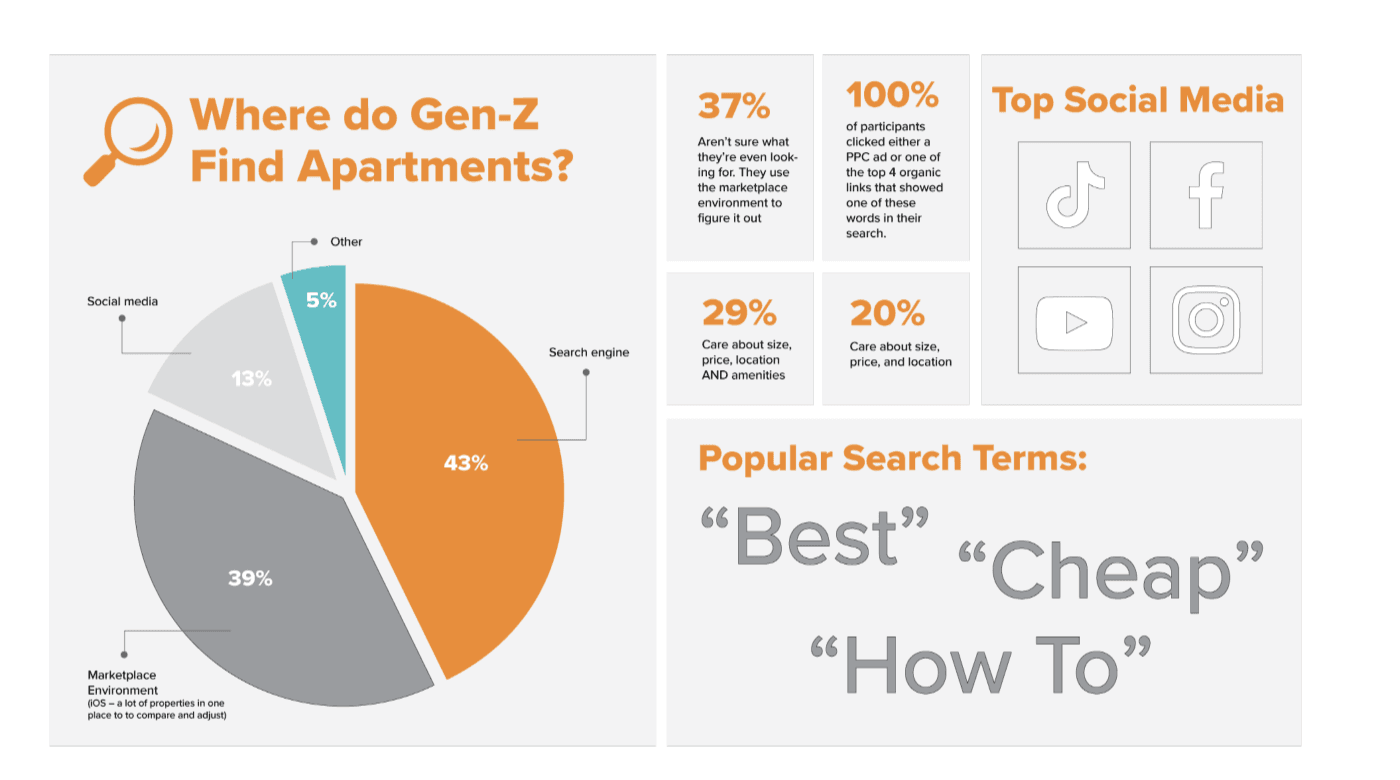 The infographic showcases the importance of leveraging multiple engagement points during a prospective resident's journey. They like bouncing between sources. We found this tendency in data that goes beyond just Gen Z renters. According to recent data from Google, over 50% of renters (all renters, not just Gen-Z) are looking at 6 or more apartments simultaneously, and they expect information on those apartments to be consistent across all the channels they're looking at. If it isn't, they quickly become disengaged.
Technological advances have provided a whole new roadmap of digital avenues to discover vacant rentals. Search ads, Google My Business, online reviews, social media, websites, and mobile apps are only some channels available to prospective residents today.
It's imperative that multifamily owners and staff know their audience, the channels they use, and are engaging with them there. The more adept you are at this, the more leases you'll sign.
2. Resident Reviews
Ninety-three percent of people searching for a rental property consider online reviews a primary source of information, according to a recent Renter Insight & Digital Engagement survey. The same survey also showed:
74% read at least one (and sometimes as many as ten) online reviews about every property they considered.
64% said they would pay a higher rent premium for an apartment with great reviews.
57% said negative reviews were more impactful than positive ones in deciding where to live.
Renters today are using online reviews every step of the way as they search for a place to live. It's no wonder that multifamily staff who place importance on what's being said about their communities online see higher rates of return. Persuade residents to write reviews. Always respond quickly to questions and negative reviews. You'll see positive results if you do.
3. Touring Options
The world events of the last two years sped up the already growing number of remote workers and started a migration boom. This has seriously affected the multifamily industry, leading prospective residents to favor options that save time, travel, and allow for remote interaction. As a result, virtual and self-guided tours have become vitally important to the modern renting experience.
Multifamily properties across the globe have adopted a variety of touring options to meet renters' needs. These include fully self-guided options, leading the prospective resident through the property in real-time, and providing community information via a mobile app. There are also virtual 3D tours where a person can view the property on a website without leaving their home. In fact, 31% of people who received a virtual tour also viewed units in-person at the same property.
In 2021, data presented during panel sessions at NAA's Apartmentalize conference and NMHC's Optech conference revealed interesting information about self-guided tours that owners should know:
Those who took a self-guided tour completed the tour within 60 minutes of their initial inquiry.
70% of prospects still chose self-guided tours when given the option.
If a prospect didn't sign a lease after a self-guided tour, 47.3% said it was because they still wanted to interact with a leasing agent.
44% of all customer interactions are taking place outside hours of operations.
60% increase in closing rates for those who implemented self-guided tours.
50% of prospects used self-guided tours.
4. Smart Apartment and Access Control Solutions
Renters today want their apartment to be smart. A 2021 Assurant survey revealed that close to 50% of renters consider smart apartment solutions a major selling point, and that they'd even be willing to lose out on floor space for more smart features. In another survey, 61% of millennials said that if an apartment has only smart access - without even considering other smart apartment features - they're more likely to rent it. Smart lights, locks, thermostats, and outlets are as popular as they've ever been. Studies also show that the addition of smart features makes residents feel safer.
And renters today don't just want smart features in their apartments. They want it across their community. Residents want the ability to access all of their entry points - apartment, pool, fitness room, property gate - with their smartphone. Increasing connectivity property-wide is necessary in 2022 to give residents the convenient access control they expect. The ease of remotely letting friends and family in with a mobile app is a deal-maker for many renters today.
Turning apartment complexes into smart communities is more than a trend. Research shows 42% of all apartments in America will have connected devices installed by 2025. Many smart community owners are already reporting up to 10x returns on their investment.
5. Energy Management
Millennials and Gen Z care more about sustainability, environmentalism, and energy management than any previous generation, and nearly three-quarters of millennials rent. Many modern studies link IoT and smart tech to a greener future. That smart tech allows for significant energy conservation is a reason the current generation of renters see it as much more than just a convenience.
The ability to directly monitor energy consumption has many benefits for renters, property managers, and owners. By ensuring that temperature and lighting are always set and adjusted according to occupancy levels, weather conditions, and time of day, carbon footprints are reduced. Residents avoid higher utility bills, property managers avoid in-person staff visits, and owners avoid overhead costs associated with vacant units.
Modern energy conservation efforts can bring immense peace of mind to everyone involved by reducing risk and liability while simultaneously saving lots of money.
6. Mobile Phone Usage
People today expect there to "be an app for that". The convenience of using our smartphones for pretty much anything has become commonplace. And it's no different in the multifamily industry. Ninety percent of millennial renters use technology to search for a new home, and 3 out of 4 do so via downloadable apps. And 46% of renters said they sent their rental applications using their mobile device.
Property managers also love the continuous engagement that customized mobile apps bring. They allow them to stay connected with their residents from tour and lease-up through tenancy and move-out. It's an incredibly important resource that owners should consider a necessity.
The more residents and staff can do with a mobile app in your community, the more appealing your community becomes. The best solution is to build as much functionality into one or two apps. You don't want your users getting app fatigue by spreading the functionality too thin.
Conclusion
The way prospective renters search for and evaluate apartments continues to evolve, as do their expectations for what amenities and benefits they want from a community. Smart technology in multifamily is a compelling factor for prospective renters in their decision-making process. The more an owner is in tune with these and other items we've discussed here, the greater advantage they have over their competitors.
It's an exciting time to be in Multifamily.
—-----------------------------------------------------------------------------------------------------------
If you have questions or want additional information about some of the topics above, including smart apartment solutions and touring options, reach out to a Dwelo rep. We'd love to chat with you.
Go smart with Dwelo.
See what our Smart Community System can do for you.
Get A Quote